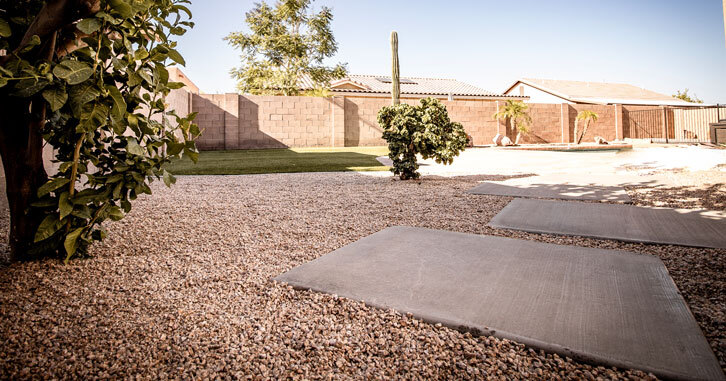 Yuma, AZ Concrete Contractors
Concrete is one of the most affordable materials to help shape and beautify the outside of your property. We have experienced masonry contractors to design, build and finish impressive concrete walkways, patios, pool decks, basketball courts, or any concrete project. One Stop Construction and Landscaping works closely with the client to ensure the project is what the client envisioned from start to finish.
One Stop Construction Landscaping (OSC) provides concrete contracting and services to Yuma, AZ, and the surrounding area. We can create concrete solutions for all landscaping projects that suit any budget from design to completion.
One Stop Construction Landscaping (OSC) is the ideal concrete contractor for designing and building your landscape concrete project. With their expertise in both construction and landscaping, OSC can seamlessly integrate concrete elements into your outdoor space, creating a stunning and functional landscape. Their skilled professionals will work closely with you to understand your vision, preferences, and budget, ensuring that the final result exceeds your expectations.
OSC begins the process by conducting a thorough on-site evaluation. They carefully analyze the existing layout, natural elements, and topography to develop a comprehensive plan that maximizes the potential of your space. Whether you're looking for a decorative concrete patio, a pathway, or a retaining wall, OSC will provide innovative design solutions that enhance the beauty and functionality of your landscape.
Once the design phase is complete, OSC brings its expertise in construction to bring your vision to life. Their team uses high-quality materials and follows industry best practices to ensure the durability and longevity of the concrete elements. From excavation and foundation work to pouring and finishing, OSC pays meticulous attention to detail at every step of the construction process. Their commitment to quality craftsmanship and customer satisfaction ensures that your landscape concrete project will be completed to the highest standards.
Call today for a free concrete contracting quote at (928) 920-6945.